TV Aerial Instllation Services
INSTALLATION AND REAPIR OF TV AERIALS IN COVENTRY, WARWICKSHIRE, SOLIHULL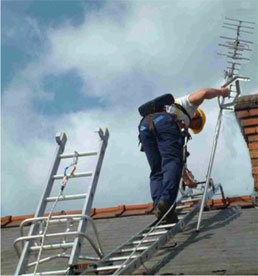 If you have a modern TV or Digital box, then you probably rely on the Freeview or Youview service for your TV. This is the most common way of receiving digital TV as it is completely free, however it does require your rooftop aerial to be in good working order.

If your aerial system is not up to scratch then you may experience problems such as, braking up pictures and sound, missing / intermittent channels, no signal or bad signal messages or possibly no reception at all. This can be due to weak signal / interference.

There are two main factors that affect your reception, 1; your location and environmental issues, 2; the condition, quality and age of your aerial system and cabling.
If you are experiencing any kind or reception problems that could be due to your TV aerial, please contact us and we can arrange for a free engineers visit who will be able to advise you of improvements that can be made.

We offer a range of digital compatible aerials and accessories to solve your reception problems and achieve optimum reception.
All our new installations include replacement of all parts, including; new brackets & fixings, new aerial mast, new high quality screened cabling & connectors & required amplifiers splitters. All work is carried out to a high standard following the CAI codes of practice. We only use aerials that have a good robust build quality, along with good performance. All new aerial installations are supplied with a 1- 5 year warranty as standard.

To determine the most suitable aerial for your location please contact us to arrange for a free estimate.  We will be able to advise you from, local knowledge, experience, testing your old setup, looking at the line of sight and carrying out a roof top signal check before installation. 

Below are a few of the aerial systems that we can install. Prices start from just £98.00 fully fitted.
..