Digital Switchover and TV Aerials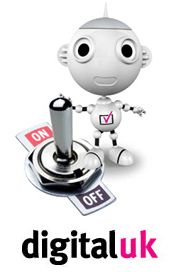 As most people are already aware, the UK has now switched from analogue to digital TV. The Government has now ceased all analogue transmissions, leaving Digital as the only way to receive terrestrial TV signals. The switch over started in 2008, and the Midlands switched over in 2011. September.
If you are receiving digital TV via Satellite (freesat or sky) then you will not be affected by the switchover process and your TV aerials is not used for these platforms.
Because of all this, City Aerials now only install digital compatible aerials and digital approved equipment, so that all our customers are suitable for good Digital Freeview Reception. Therefore all installations must reach the criteria set down by the broadcasting authorities and the CAI in order to receive clean DTT signals. This includes the following:-
1. The aerial itself must have a "balun" in-built within the connection box. This is a device that should stop any unwanted electrical interference disrupting the signal quality.
2. The downlead cable must be double-screened. This is an extra barrier of copper foil built around the underneath of the cables' external casing to stop any unwanted signals breaching through.
3. If an outlet socket is installed it must also be double-screened. This means that it must have a protective metal casing screening the connections from any unwanted signal ingress.
4. The antenna must be sited in a position that is clear of interference source, particularly mains wiring, and it is always preferable to install the array outdoors as loft mounting will usually lead to excessive interference pick-up and disappointment.
5. Signal measurements must be taken at each site and the results must equate to the parameters set by the broadcasting authorities and the CAI. If the results obtained are outside of the required criteria then the installation will simply fail to work properly
If you current aerial is in good condition and working ok you should not need to change anything, as it should all work fine for Digital Those who will require an aerial upgrade will be due to the fact they live in a poor reception area and the old aerial is in poor condition. Signs that the aerial may need attention include, Picture Brake-up, Missing Channels or Poor Signal Messages